Lahaul and Spiti
Lahaul and Spiti District of Himachal Pradesh
Once crossed Ambala, Haryana on NH no. 1 towards Zirakpur-Panchkula is a 40 odd km stretch, running partly through Punjab and is a well-made four lane highway by GMR towards Himachal Pradesh entering via Pinjore/Parwanoo and also linked with new Kalka by-pass which, one can say is the start of Indo-Tibet border road well known as National Highway No. 22 (NH-22). The terrain changes once you cross Parwanoo and it becomes a mountain road with extensive bends and turns leading towards Shimla.
In about 65 Kms from Shimla, came Narkanda which is a town and a nagar panchayat in Shimla district at an altitude of 2700 meters on the Hindustan-Tibet Road NH-22 in Shivalik Ranges that spans a large part of Himachal Pradesh.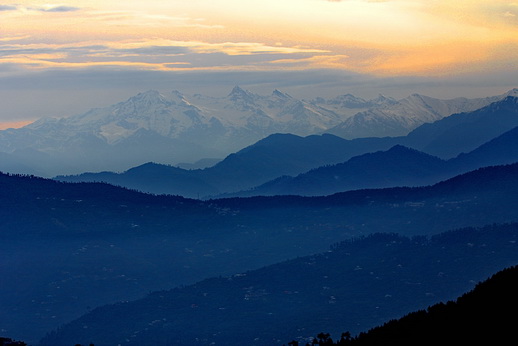 The stretch from Rampur onwards on NH-22 which comes after Narkanda is featured in the History Channel's "IRT Deadliest Roads". This road joins Satluj river near Rampur and the entire getup of the road changes after Rampur. On the stretch from Rampur to Wangtu, came curvy turns, bends and narrow passages. This section is where roads are carved from solid rocks and bit thrilling scary at some places and the same road leads to the Kinnaur district.
Moving ahead in Kinnaur the thrill with scare multiplied as it reached Tapri where once a small section was blocked due to heavy land-slides and it seemed there was a permanent diversion of 18Kms for 2 to 3 Km section of that road but now (2017) it has got 3 lane road. When traveled in 2015 the diversion road is hardly 3 meter wide with sharp accent and decent to again join NH-22. Bus and truck drivers had to do a back cut on each bend, which turned even difficult for them when there was any vehicle coming from opposite direction. It took at-least 2 hours to go up-hill and down back to Tapri on this diversion and the section was definitely not for armature drivers. Its because of Baspa and Karcham Hydro project the road along this stretch has improved.
Take a right cross on Satluj river at Karcham and in 18 Kms one can reach Sangla / Chitkul valley also known as Baspa valley surrounded by forested slopes and offers views of the high Himalayan Mountains and into Kinnaur district.
Take a left from Powari one can reach Kalpa via Recong Peo, the district headquarters of Kinnaur
Further from Powari via Apka, Moorang and Spello up to Puh, the road is rocky and speed slows down. This entire stretch has got some beautiful waterfalls and is alongside Satluj river upto Khab where Spiti River meets Satluj and one enters into Spiti Valley (Lahul and Spiti District). A section of NH-22 goes up to Tibet border and the other takes a curve into Spiti district. This road from Khab goes up hill and reaches Nako where a small old village awaits you alongside some of breath-taking views on this stretch and hereon one can find villages with monasteries, one of the India's oldest can be witnessed in Tabo which is on route once you cross Chango and Sumdo.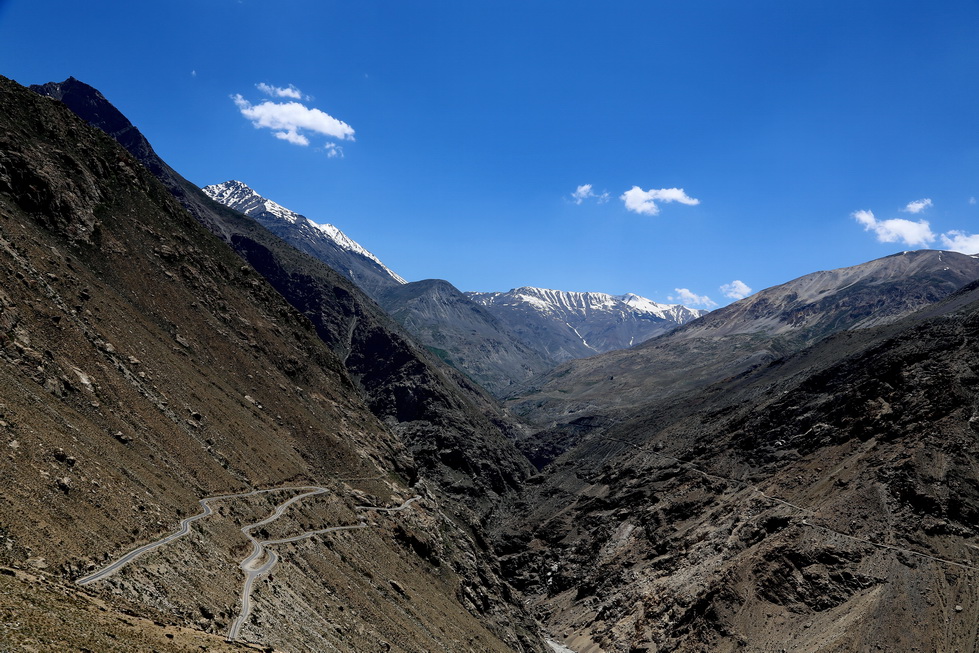 From Tabo to Kaza the road goes side by side Spiti river with grey sand mountains with snow on top there is hardly any greenery, whatever available is only on river side. The road is straight and with very little curves, ups and downs. The view is out of the world and what can be called as "Cold Mountain Desert".
Kaza is biggest town, if it can be called so, after Recong Peo as being district headquarters of Spiti Valley. The elevation remains to be 3700 meters (12000 ft), it also has so claimed world's highest oil retail outlet. Kaza has got overlooking mountains on all sides with snow.
About 12 kms up-hill on the right from Kaza is small village at an elevation of 4200 meters (13000 ft). Beautiful is the word less appropriate for this place. Large ground on top of hill with big snow covered mountain and a Gautam Buddha statue… the attraction of the place cannot be defined in words, so it's "Langza"
Kye Gompa or Key monastery is a Tibetan Buddhist monastery located 14 kms from Kaza at an altitude of 4100 metres (13,500 ft) above sea level. It is the biggest monastery of Spiti Valley with 1000 years of historical significance and a religious training centre for Lamas. The road further goes to Kibber village.
The onward road from Kaza has Spiti river on left, Langza, Kye Gompa and Kibber goes right up on the road from Kaza and once the Spiti river is crossed, it remains on to the right to the further journey towards Hansa village. After two crosses of Spiti river here comes the last village on this road "Losar". At the height of 4200 meters (13700 ft) is a picturesque village with beautiful view of thick snow covered mountains with gushing Spiti river.
Further from here 18 kms is Kunzum pass (Kunzum La) at the height of 4550 meters (15000 ft) and is the origin of Spiti river. One can really experience how glaciers form a river, melting snow from everywhere, dripping down from all over, making way for herself to form a river.
At the time of May end and early June the further road from here is usually closed which goes further via Batal to Gramphu where right goes to Leh and left down towards famous Rohtang La Pass towards Manali. So its always advisable to plan after 2nd week of June so that Kunzum, Chandratal and further travel through Lahaul valley crossing nomads land up to Rohtang pass can be covered.
Chandratal is little off-route and one has to keep full day, if not camping there. Sloping down 18 hairpin bends from Kunzum and just a few kms before Batal a 14 Kms narrow road leads to Chandratal along side Chandra river leaving you mesmerised  with beauty of the landscape. Its a "MUST" visit and ideal would be a night camp on full moon night and why the TAL is named after "LAKE OF THE MOON"
This 800 Km journey on this road is one of the toughest roads to drive on along with breadth taking views and is worth doing so as ONCE in LIFETIME experience. I along with family had done it twice and still have not absorbed the beauty of this area.
Share this: